Are you looking for elegant and affordable corporate luncheon venues Southfield MI?
If you're thinking of hosting a corporate luncheon for any reason, do yourself a favor and choose one of the most reliably versatile venues in the area: Carpe Diem Banquet Hall. Unlike regular restaurants and other non-venues, we can offer you your choice of two elegant corporate luncheon venues, both recently renovated with spacious, customizable floorplans to guarantee you have the space you need to conduct your intended business. Plus, you will have access to special savings on quality catering and even bar services for your corporate luncheon as well, thanks to our unique special event packages. Whether you want to keep your corporate luncheon small and casual for your employees or use it as an opportunity to deliver presentations about productivity and employment retention to up to 350 of your company's managers and executives, our venues are the perfect place to do it. Our venues' subtly lavish décor, chandeliers, and other strategically integrated details are sure to make an impression on every guest invited to your corporate luncheon, making them feel excited just to be part of your company. There's only one way to find out, though, and that's to let our event coordinators help you host your next corporate luncheon at one of the most popular venues in Southfield: Carpe Diem Banquet Hall.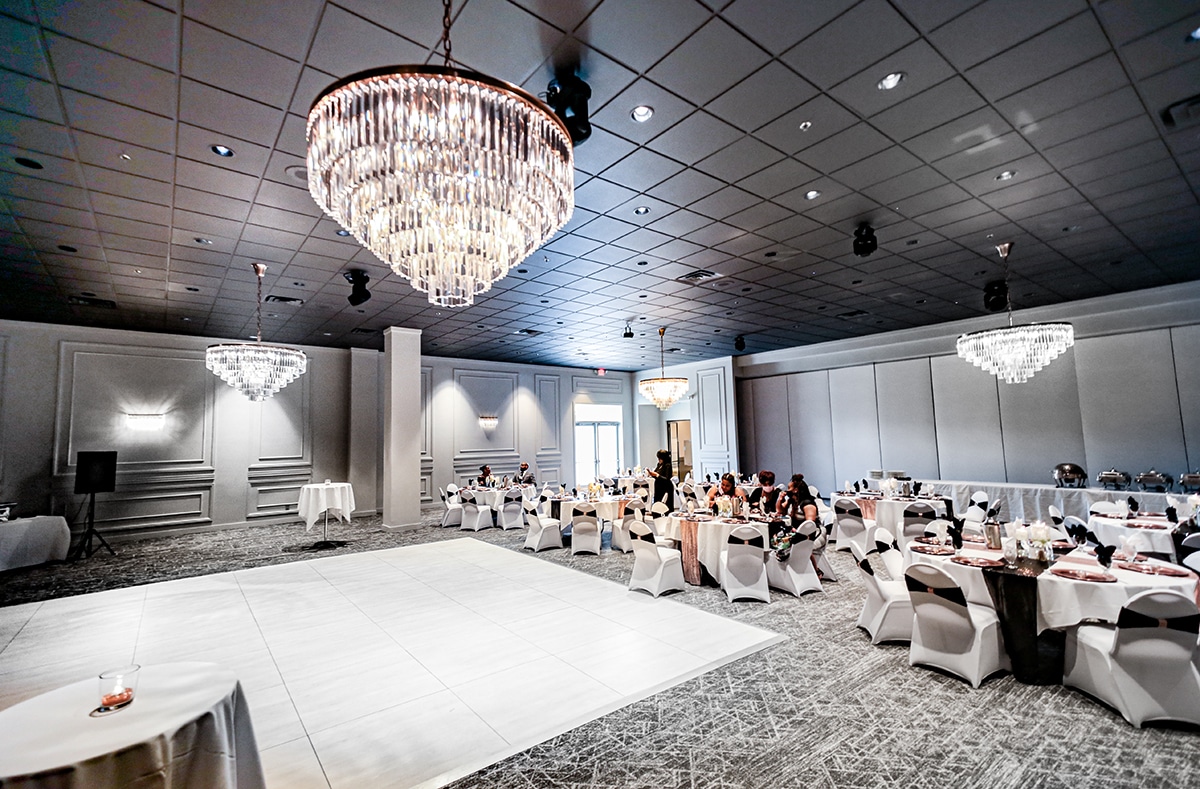 Corporate Luncheon Venues Southfield MI
Carpe Diem Banquet Hall is a premier event facility that offers phenomenal corporate luncheon venues in Southfield, MI. It really doesn't get any more convenient than that. No matter how vibrant a city Southfield may be, its list of viable corporate luncheon venues outside of ours is very low. Southfield's main attractions include an art gallery, Park West Gallery, and a simple movie theater, Star Theatres Southfield. Neither of which are ideal for hosting important corporate events. Besides, if you already own a business in the heart of Metro Detroit, Southfield, there's no better place to get together anyway. Traveling back and forth will be easy for local employees in Southfield. We offer food, drinks, and everything else your event needs in-house, so you don't need to keep up with numerous separate expenses. Plus, if you have guests visiting from out-of-town, most of the popular hotels within just five miles of us even give generous discounts to guests of events hosted at Carpe Diem Banquet Hall. Just get in contact with our esteemed event coordinators, and you can walk us through every expectation you have for your upcoming corporate luncheon in Southfield. We won't let you down.
Carpe Diem Banquet Hall is located at 28847 Franklin Rd. Southfield, MI 48034. We can provide you with an elegant and affordable experience for parties up to 350 guests and can help you plan the perfect setting for the event you envision.
If you are looking for elegant and affordable corporate luncheon venues Southfield MI, call Carpe Diem Banquet Hall at (248) 358-3355, or fill out the form below or in the sidebar for your free party consultation:
Free Consultation
"*" indicates required fields