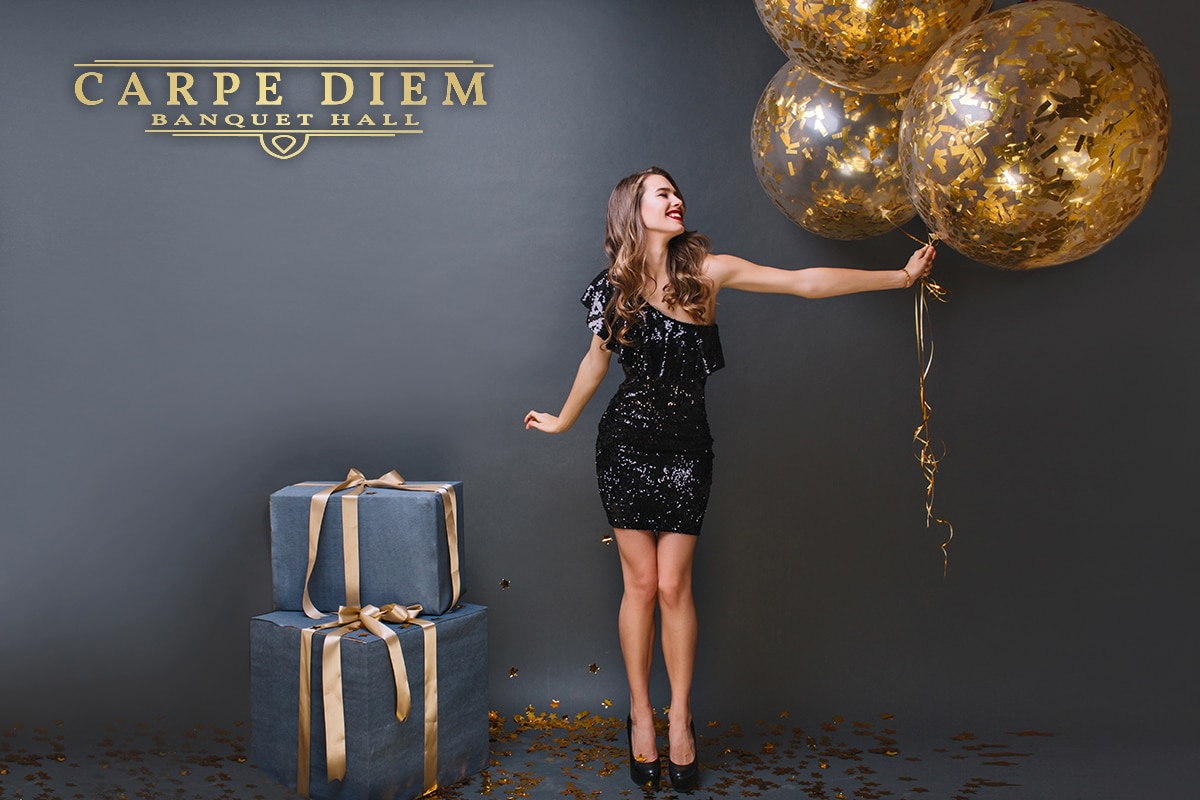 Your child is only going to turn 16 once in their life. So, make sure it's at least the sweet 16 party of their dreams, and yours, by booking Carpe Diem Banquet Hall as your premier party venue!
Our recently remodeled party venues are clean and quick to impress any guests that walk through our doors, and that certainly includes you. By maintaining such large, customizable floorplans, we allow you to host up to 350 guests at a time, so your beloved guest of honor never has to narrow down their guest list or leave anyone out of the fun. If you want, you can even invite guests and family from out-of-town with confidence, as we know of several hotels within just five miles of us that will gladly offer anyone attending your sweet 16 party special discounts on overnight and extended stays.
Before the main event, our event coordinators will work tirelessly with you to create the perfect theme, handle decorations and graphics, get flowers/centerpieces, arrange party favors, scout entertainment, organize transportation, and otherwise take care of all of the countless small details that come up to ensure your event is unique. Our purposefully neutral décor even makes helping you personalize the aesthetic and tone of your event easier. Each of our venues has spacious dance floors for guests that love to stay moving, plenty of room for props and entertainment, beautiful chandeliers to enhance photos you take throughout the evening, and so much more.
What the sweet 16 party of your dreams actually looks like, of course, is all up to your family. We can prepare our venues to host live entertainers, photo booths, light shows, paparazzi, and anything else you can dream up. So dream big! We even offer incredible special event savings on our excellent catering and beverage packages, so your young birthday invitees can enjoy as many snack stations, desserts, and more as they can handle. Just speak to your event coordinator about precisely what you have in mind for your exclusive event so that we can get preparations made as soon as possible.
More than anything else, our event coordinators are here to help you realize your teen's wildest expectations for their priceless celebration to ensure it's one sweet party no one ever wants to forget. Carpe Diem Banquet Hall, located right here in the heart of Metro Detroit, truly is, without a doubt, the sweet 16 party venue of your dreams! Call Carpe Diem Banquet Hall today at (248) 358-3355, or simply fill out the form in the sidebar to see how we can help you plan and/or host your sweet 16 party.