Are you looking for elegant and affordable wedding shower venues Southfield MI?
Wedding presents are the best thing about getting married next to spending the rest of your life with your best friend, which is why if you haven't done so yet you need to make a decision regarding your choice of wedding shower venues. While it may not seem like it at first, choosing your wedding shower venues wisely always pays off in the end. Just look at Carpe Diem Banquet Hall. Our newly remodeled venue with customizable floorplans are clean, classy, and large enough to hold up to 350 wedding shower guests at a time. Our venue has chandeliers in every room and neutral décor so you can customize your wedding shower however you want. Plus, our centralized location in the heart of Metro Detroit means there are ample hotels and other accommodations within just a few miles for any out-of-town guests, many of whom offer special rates for guests of our venues. For catering and bar services, our wedding shower coordinators can walk you through our extraordinary list of available wedding shower and event packages to help you save even more on your special day. By the time the day of your wedding shower arrives, you'll know in your heart Carpe Diem Banquet Hall is one of the only venues in or around Southfield you ever want to host another special event with.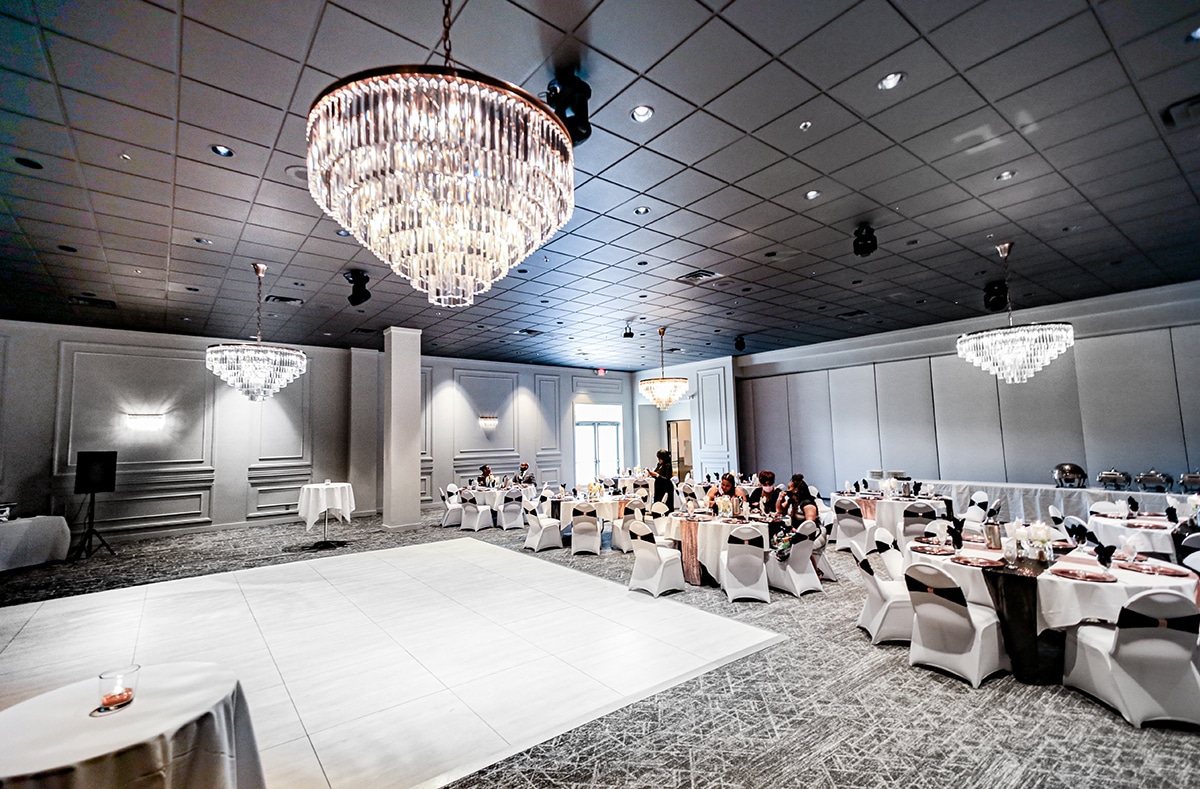 Wedding Shower Venues Southfield MI
Carpe Diem Banquet Hall is a premier event facility that offers phenomenal wedding shower venues in Southfield, MI. We can personalize your event however you want. We understand that Southfield doesn't have very many genuine venues around and that you deserve to host your special day somewhere beautiful but convenient. That's why we're here, to be the one place in Southfield you can always count on. Instead of braving the elements outdoors at one of Southfield's local parks with a few friends or setting for a place that's not an official venue because you know the owner, throw yourself a wedding shower no one in Southfield will ever forget at Carpe Diem Banquet Hall. Having all of your food, drinks, and more coming from one place instead of all over Southfield will be so much easier when it comes time to serve your guests, giving you the chance to actually concentrate on enjoying your time with your friends and loved ones leading up to the main event. One thing's for sure, of all the places in Southfield you could host your wedding shower, you will never regret hosting it here with us!
Carpe Diem Banquet Hall is located at 28847 Franklin Rd. Southfield, MI 48034. We can provide you with an elegant and affordable experience for parties up to 350 guests and can help you plan the perfect setting for the event you envision.
If you are looking for elegant and affordable wedding shower venues Southfield MI, call Carpe Diem Banquet Hall at (248) 358-3355, or fill out the form below or in the sidebar for your free party consultation:
Free Consultation
"*" indicates required fields