Are you looking for elegant and affordable banquet halls Southfield MI?
Banquet halls are a great place to host birthday parties, weddings, corporate events, and other important parties. But, you have to be careful. Not all banquet halls are as flexible, or competitively priced as Carpe Diem Banquet Hall. Nor would we expect them to be. Under our new ownership, we've become one of the best-equipped banquet halls in the heart of Metro Detroit. Every inch of our facility has undergone a full remodel. We have two dedicated event rooms adorned with chandeliers and spacious dance floors to accommodate up to 350 guests. Our floor plans can be customized to meet the needs of your unique event. Plus we provide extraordinary food, open bar deals, and event packages to ensure you can find all you need in one place. In comparison, other banquet halls are lucky to even be considered at all. Need more still? Ours is as convenient as banquet halls come. We're close to all surrounding freeways, quality budget-friendly hotels, and can help you get good deals on groups rates on all your amenities. Not to mention you won't find a single negative review since we took over in December 2019. Now, every review is either 4 or 5-stars! Of all the banquet halls in Southfield, everyone loves Carpe Diem Banquet Hall.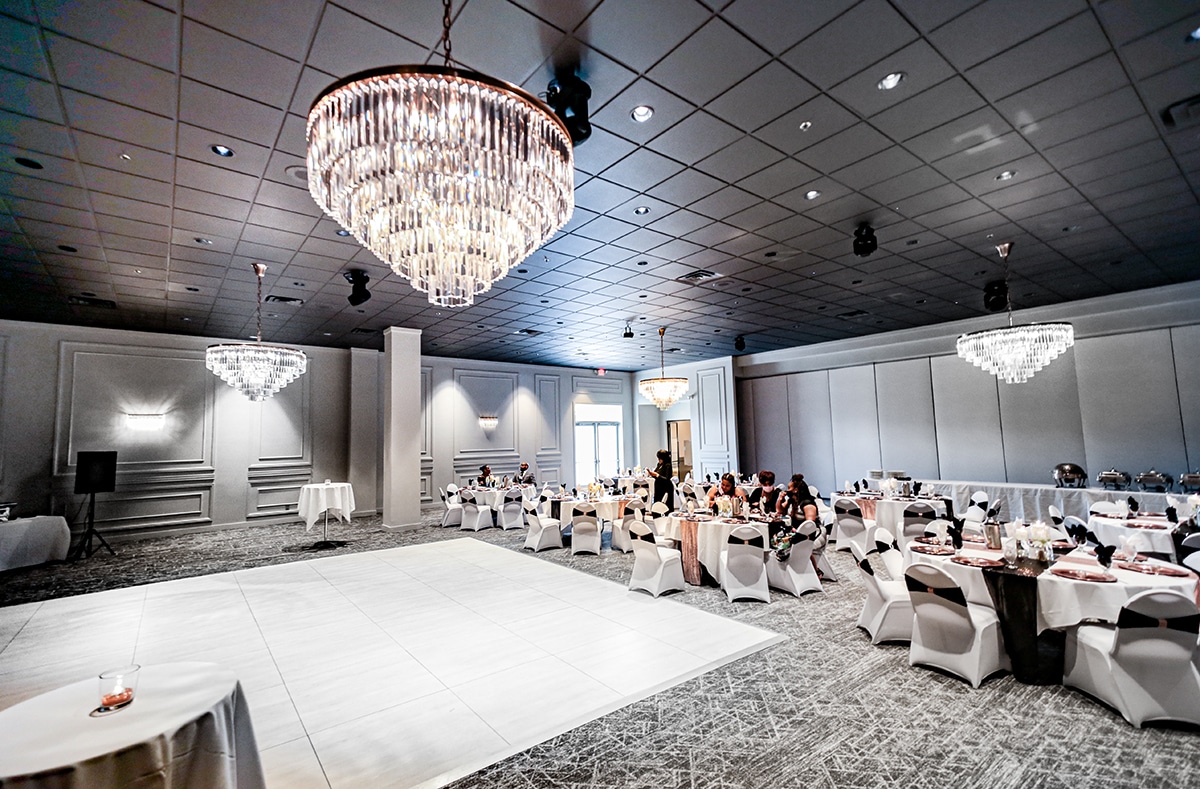 Banquet Halls Southfield MI
Carpe Diem Banquet Hall is a premier event facility that offers phenomenal banquet halls in Southfield, MI. After all, people in Southfield love to have fun more than anything else. It's why Southfield is so full of art galleries, parks, entertainment centers, and more. During the summer, and on the weekends, you'll see a ton of locals making their way from one attraction to the other. Plus, like our banquet halls, Southfield is right in the heart of Metro Detroit surrounded by world-class entertainment. If you're on the hunt for a place to host a special event, though, you're in luck. Carpe Diem Banquet Hall is located right in Southfield south of the Franklin Hills Country Club. That means your guests won't even have to travel outside Southfield at all to reach us or get back home. Whenever you host a special event, just point them towards our beautiful facility, right by Starbucks, and let the night take you all away. Our courteous, flexible staff will do everything possible to ensure your guests have an extraordinary time. So much so, that you'll never want to host any events at other banquet halls in Southfield again.
Carpe Diem Banquet Hall is located at 28847 Franklin Rd. Southfield, MI 48034. We can provide you with an elegant and affordable experience for parties up to 350 guests and can help you plan the perfect setting for the event you envision.
If you are looking for elegant and affordable banquet halls Southfield MI? Call Carpe Diem Banquet Hall at (248) 358-3355, or fill out the form below or in the sidebar for your free party consultation:
Free Consultation
"*" indicates required fields