Are you looking for elegant and affordable luncheon halls Farmington MI?
If you're hoping to get an important group together, for business or pleasure, the first thing you need to do is narrow down available luncheon halls in your area. You're likely going to want to avoid crowded restaurants at all costs and anything outdoors, so you don't have to hope for good weather. However, for most people in Farmington, this really doesn't leave much else to choose from. Lucky for you, our recently renovated luncheon halls at Carpe Diem Banquet Hall are clean and ready for any upcoming events you have planned for your family, office, church, book club, or other tight-knit social groups. Our luncheon halls feature glamorous chandeliers, customizable floor plans that can accommodate up to 350 guests at a time, and plenty of electrical connections in case you'd like to host any presentations or demonstrations during your event. Best of all, you won't find any luncheon halls near you with better catering and bar services. Just ask your personal event coordinator about all of our exclusive event packages, and we will help you find the perfect deals offering the highest savings to reduce the total cost of our luncheon halls. Even if you've never been to any formal luncheon halls before, our exemplary event coordinators will make sure ours at Carpe Diem Banquet Hall exceed your wildest expectations in every way we possibly can.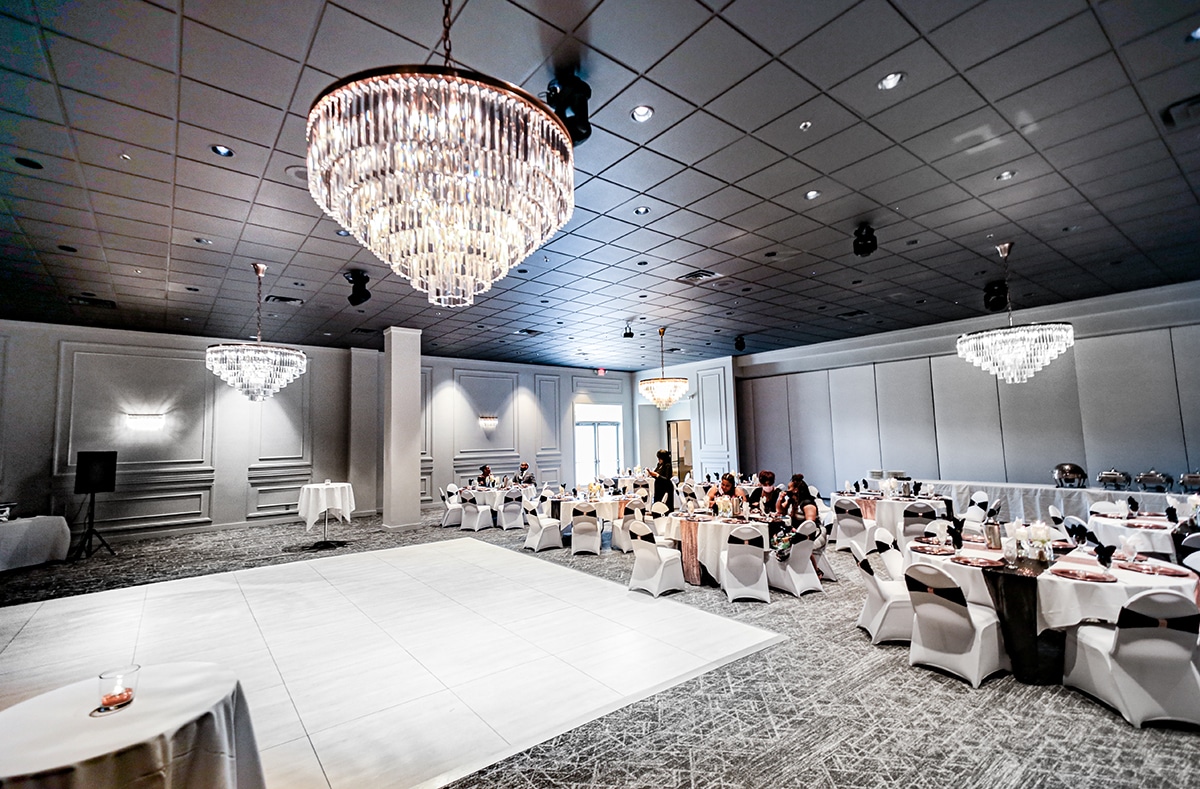 Luncheon Halls Farmington MI
Carpe Diem Banquet Hall is a premier event facility that offers phenomenal luncheon halls near Farmington, MI. And not a moment too soon. Farmington is one of the liveliest cities in the area, home to a vast population of people with all types of backgrounds and interests. Locally, this is the reason there are so many unique attractions in Farmington, like Marvin's Marvelous Mechanical Museum and the Farmington Civic Theater. Everyone in Farmington is unique. When it comes time for everyone to celebrate, though, the lack of worthwhile party halls doesn't exactly make things easy. Small groups have to constantly rotate residential properties, clubs have limited amenities, and whenever everyone in Farmington wants to get together for something really important, it's nearly impossible to make sure there's enough food, space, and other essentials for everyone to enjoy themselves. That's why if you want to guarantee your guests have a fantastic time, you have to be willing to look beyond Farmington. Not too far, though. Our luncheon halls at Carpe Diem Banquet Hall are only a few minutes east of Farmington in the stunning city of Southfield!
Carpe Diem Banquet Hall is located at 28847 Franklin Rd. Southfield, MI 48034. We can provide you with an elegant and affordable experience for parties up to 350 guests and can help you plan the perfect setting for the event you envision.
If you are looking for elegant and affordable luncheon halls Farmington MI, call Carpe Diem Banquet Hall at (248) 358-3355, or fill out the form below or in the sidebar for your free party consultation:
Free Consultation
"*" indicates required fields