Are you looking for elegant and affordable wedding reception venues Southfield MI?
Your wedding day might be the best day of your life, but ensuring you have a great night too starts with choosing the right reception venues to host your main party. It's not always easy. Only the best wedding reception venues exude elegance worthy of your big day and make room for fun and entertainment, but we know Carpe Diem Banquet Hall has what it takes to impress. In addition to being conveniently located in the heart of Metro Detroit within just a few miles of numerous popular hotels that extend special savings and deals onto our guests, our actual wedding reception venues are virtually brand-new thanks to a recent remodel to guarantee you have a fresh, clean space to celebrate your love in. From chandeliers to fresh linens, we have it all. Best of all, the floorplans of our spacious wedding reception venues are completely customizable, so you have the power to create a layout that works best for your party of up to 350 guests. You can choose where your dancefloor goes, how you want our neutral wedding reception venues decorated, and which of our budget-friendly wedding reception packages you're interested in based on your catering and bar interests. Our only hope is that by the end of your special evening, you see our wedding reception venues' competent event coordinators at Carpe Diem Banquet Hall as some of the most caring, reliable professionals in Southfield.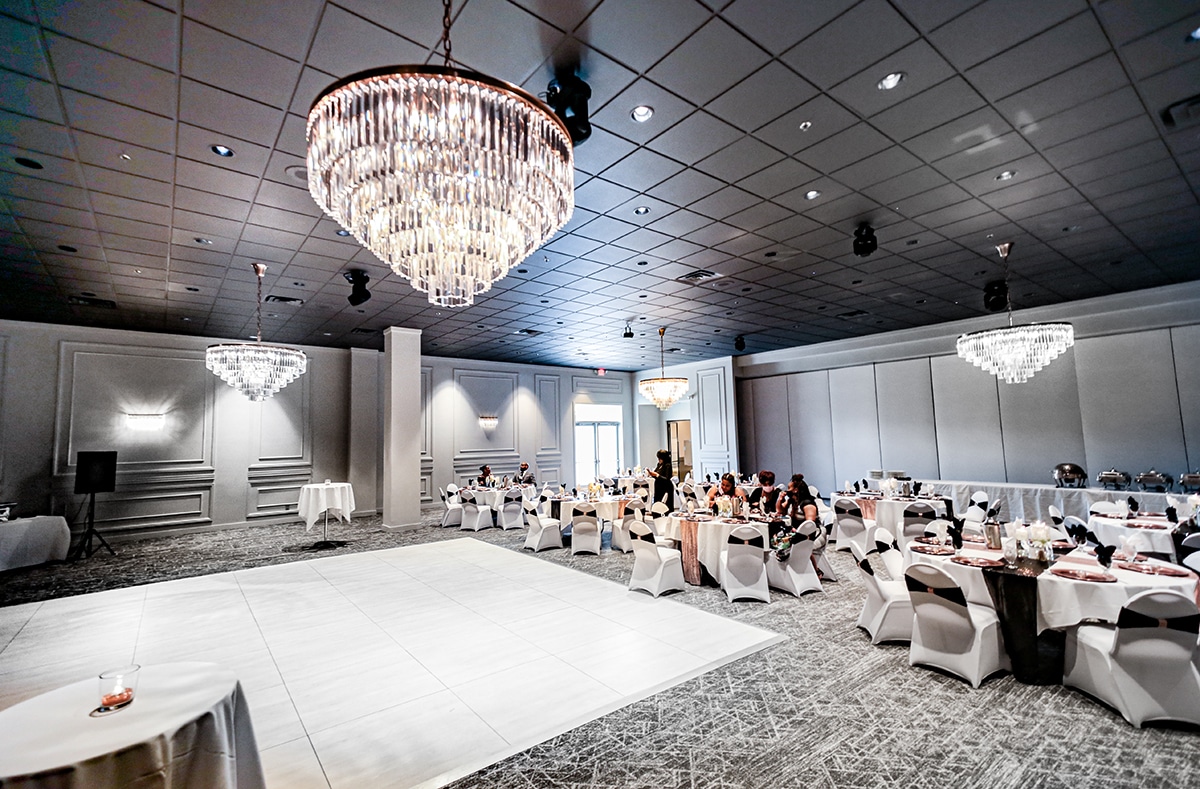 Wedding Reception Venues Southfield MI
Carpe Diem Banquet Hall is a premier event facility that offers phenomenal wedding reception venues in Southfield, MI. So, if you're in love and you love living in Southfield, don't wait to get in touch with us to book your reception right here in the city. Southfield may be full of fun and even romantic attractions perfect for helping you fall in love with that special someone, but one thing it is not full of is venues worthy of a wedding to celebrate that bond. So, if you want to have your reception in Southfield, you must act fast. Once you set your date, though, and we confirm your event in Southfield, we will be right by your side through the rest. Whether you want to host a serene reception reminiscent of the calming art at the Park West Gallery or host a raging party more thrilling than any attraction Southfield has ever seen, our event coordinators will make it happen. All our focus will be on bringing your wildest and most incredible dreams to life for you and all your guests in Southfield to enjoy.
Carpe Diem Banquet Hall is located at 28847 Franklin Rd. Southfield, MI 48034. We can provide you with an elegant and affordable experience for parties up to 350 guests and can help you plan the perfect setting for the event you envision.
If you are looking for elegant and affordable wedding reception venues Southfield MI, call Carpe Diem Banquet Hall at (248) 358-3355, or fill out the form below or in the sidebar for your free party consultation:
Free Consultation
"*" indicates required fields