Are you looking for elegant and affordable corporate event venues Farmington MI?
Owning a successful business means planning a variety of corporate events throughout the year. There are holiday parties, fundraisers/charity events, and all kinds of other occasions that require outsourced venues, and there are not very many elegant corporate event venues near Farmington to choose from. So, what do you do? You look just outside the comfort of your humble home city and seek the luxury here at our completely renovated corporate event venues at Carpe Diem Banquet Hall, of course! You can customize our floor plans any which way to accommodate up to 350 guests, with a completely neutral décor so you can personalize the aesthetic of your corporate event as well. Our venues each have elegant chandeliers, ample room for a stage area for presentations and speeches, as well as space for bar/catering stations. Best of all, when you choose one of the extraordinary venues at Carpe Diem Banquet Hall for your corporate events, we'll help you save every step of the way. From offering you access to a wide selection of affordable event packages to pointing you in the direction of remarkable hotels within five miles offering discounts for our guests, we're among the only corporate event venues in the heart of Metro Detroit to truly be able to give you everything your business needs.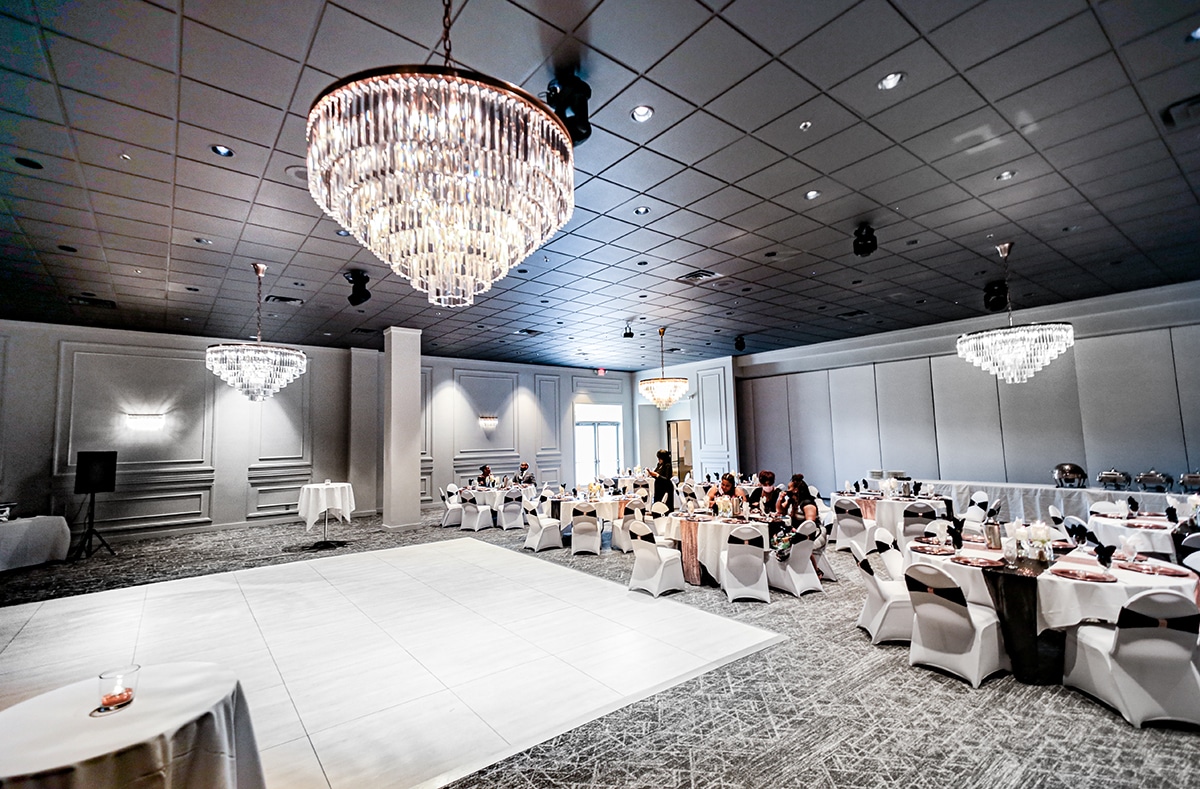 Corporate Event Venues Farmington MI
Carpe Diem Banquet Hall is a premier event facility that offers phenomenal corporate event venues near Farmington, MI. It's certainly what your business needs. You have a reputation in Farmington to uphold. If you want to garner the respect in Farmington you deserve, you have to guarantee that anything you do that represents your business is impressive to your clients and community. Anytime you throw a party near Farmington for members of your staff or host a charity event to raise money for an important cause, you have to give the event your all so that people know what your business is capable of. That is why we urge you not to compromise the quality of your most important corporate events near Farmington by hosting them just anywhere. Instead, let our skilled event coordinators step in and exceed your every expectation. Carpe Diem Banquet Hall's stunning special event venues far surpass anything else the city of Farmington has to offer in every way. Whatever sort of entertainment you have in mind, food you'd like served, or theme you have picked out, our faithful corporate event coordinators will not disappoint you. We're here to make your celebration the most sensational your guests from Farmington have ever witnessed.
Carpe Diem Banquet Hall is located at 28847 Franklin Rd. Southfield, MI 48034. We can provide you with an elegant and affordable experience for parties up to 350 guests and can help you plan the perfect setting for the event you envision.
If you are looking for elegant and affordable corporate event venues Farmington MI, call Carpe Diem Banquet Hall at (248) 358-3355, or fill out the form below or in the sidebar for your free party consultation:
Free Consultation
"*" indicates required fields