Are you looking for elegant and affordable corporate luncheon venues Farmington MI?
There are many ways to host a business meeting, but very few are as enjoyable and effective as hosting a corporate luncheon and talking shop over an incredible spread of professionally catered food. You might even consider renting out one of the venues near your business, but before you do, we urge you to give our completely remodeled corporate luncheon halls at Carpe Diem Banquet Hall a chance. While you can argue that any formal venues are better than hosting your luncheon at a local restaurant, you must also recognize that not all venues are worthy of representing your business. Compared to other venues in the area, our banquet halls are thoroughly customizable, so you can set up your corporate luncheon in whatever way is most convenient for your 350 (max) guests. We can arrange your seating to face a staging area and have all the necessary connections for you to host demonstrations or presentations at your corporate luncheon. Or we can help you keep things small with a few delicious catering, drink, and dessert stations and help you host a simple luncheon as a token of appreciation for the hardworking employees who keep your business running. Best of all, as all corporate luncheon venues should, we offer extraordinary special event packages to help you reduce the overhead of your event. Our event coordinators at Carpe Diem Banquet Hall have ample experience helping business owners enjoy the many advantages of working with the most professional corporate luncheon venues near Farmington.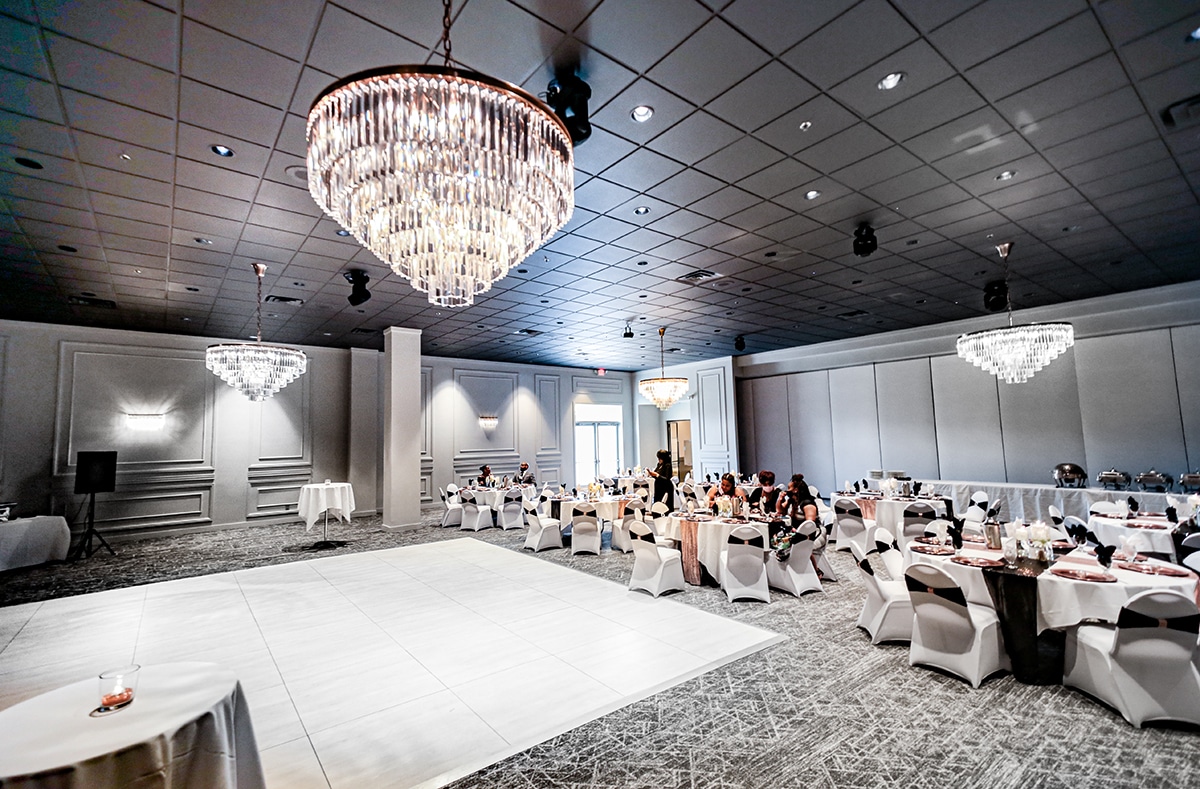 Corporate Luncheon Venues Farmington MI
Carpe Diem Banquet Hall is a premier event facility and one of the most phenomenal corporate luncheon venues near Farmington, MI. After all, if your employees in Farmington put forth a lot of effort on behalf of your business, they deserve for you to put forth the same effort when you recognize their efforts. And nothing says respite from all the stresses in Farmington like enjoying a delicious corporate luncheon. If your employees always put their best foot forward when representing your business throughout Farmington, put your best foot forward by choosing the most impressive event venues you can find. If they work hard to constantly improve productivity and enhance efficiency, show them how grateful you are by helping them unwind and enjoy their time together away from Farmington. Being successful is not just about what's best for your business in Farmington. It's about doing what's best for the incredible employees who keep your business booming. And, sometimes, the best thing you can do for your employees is show them how to play as hard as they work back in Farmington!
Carpe Diem Banquet Hall is located at 28847 Franklin Rd. Southfield, MI 48034. We can provide you with an elegant and affordable experience for parties up to 350 guests and can help you plan the perfect setting for the event you envision.
If you are looking for elegant and affordable corporate luncheon venues Farmington MI, call Carpe Diem Banquet Hall at (248) 358-3355, or fill out the form below or in the sidebar for your free party consultation:
Free Consultation
"*" indicates required fields