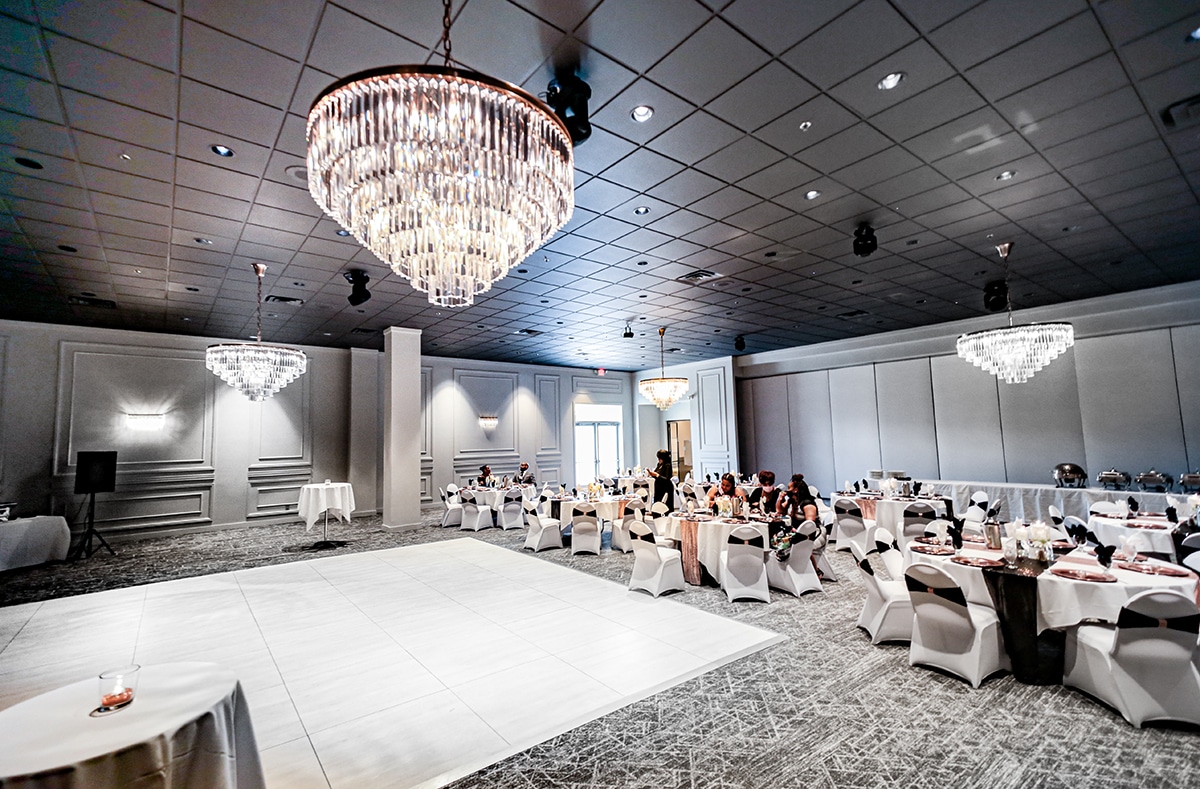 So much emphasis is put on the ceremony when planning a wedding, but it's your reception afterward that people will remember most. It's the one time everyone gets to relax and celebrate your love as a happily married couple. And everyone loves a good party! So, make your wedding reception all the more special by hosting it somewhere breathtaking, like Carpe Diem Banquet Hall.
Our formal reception halls at Carpe Diem Banquet Hall are newly remodeled, meaning we have updated and upgraded them in every way we possibly can. Our décor is elegant yet neutral to ensure you have the freedom to customize our reception hall down to its very floor plan. Each room offers a stunning chandelier and sizable dance floors. Plus, you don't have to narrow down your guest list since our reception halls can accommodate up to 350 guests.
Additional perks of hosting your wedding reception at Carpe Diem Banquet Hall include our catering and bar tiers. We've designed our vast menu to ensure you have your choice of hot, fresh, ready-made meals for all of your guests. Once you've decided on your main course, don't forget to choose one of our three available bar tiers so we can help you keep everyone's spirits high all night long.
Our event planning team at Carpe Diem Banquet Hall will even help you plan your entire reception without going over budget. We offer extraordinary reception hall packages to help you save big on your big day. From decorations and catering to drinks and table linens, our various reception hall packages include everything you will need to keep your guests comfortable throughout the duration of your reception.
Expecting guests from out of town? Don't stress! There are numerous clean, friendly hotels within just five miles of Carpe Diem Banquet Hall, and nearly all of them offer special deals and savings for guests of our reception halls. That means not only will you save on lodging, but you also won't have to worry about transportation either.
Of course, with our event planning team at Carpe Diem Banquet Hall in charge of your reception, you won't have to worry about anything. Our staff is more than capable of turning your dream wedding reception into your perfect reality. It will be a night you and your exclusive guests and loved ones will never forget. All you need to do to get your wedding reception planning officially underway is reach out to us as soon as possible to get the conversation started. Call Carpe Diem Banquet Hall today at (248) 358-3355, or simply fill out the form in the sidebar to see how we can help you plan and/or host your next party.