Are you looking for elegant and affordable wedding shower venues Farmington MI?
Your wedding shower is the last chance you have before your big day to really spend some one-on-one time with the people who have witnessed your love grow into the magnificent force it has become. So, use it as an opportunity to say thank you by hosting your wedding shower at one of the loveliest venues you can find. Carpe Diem Banquet Hall certainly fits the description, boasting everything other wedding shower venues have and more. Both of our beautiful banquet halls have seen complete remodels recently and now feature flexible floorplans, unlike any other venues in the city, that can accommodate up to 350 guests at a time, so no one misses out. There are elegant chandeliers to boost your aesthetic, as well as neutral décor in each room you can match with your event's personal style. Plus, being one of the most well-connected wedding shower venues in the heart of Metro Detroit means we have connections with numerous local hotels that can offer your guests special rates on their stays. And don't worry about the costs of everything adding up. As all venues should, we offer a variety of budget-friendly wedding shower packages that include catering, bar stations, and more. There simply are no other wedding shower venues near Farmington that can measure up to the one and only Carpe Diem Banquet Hall.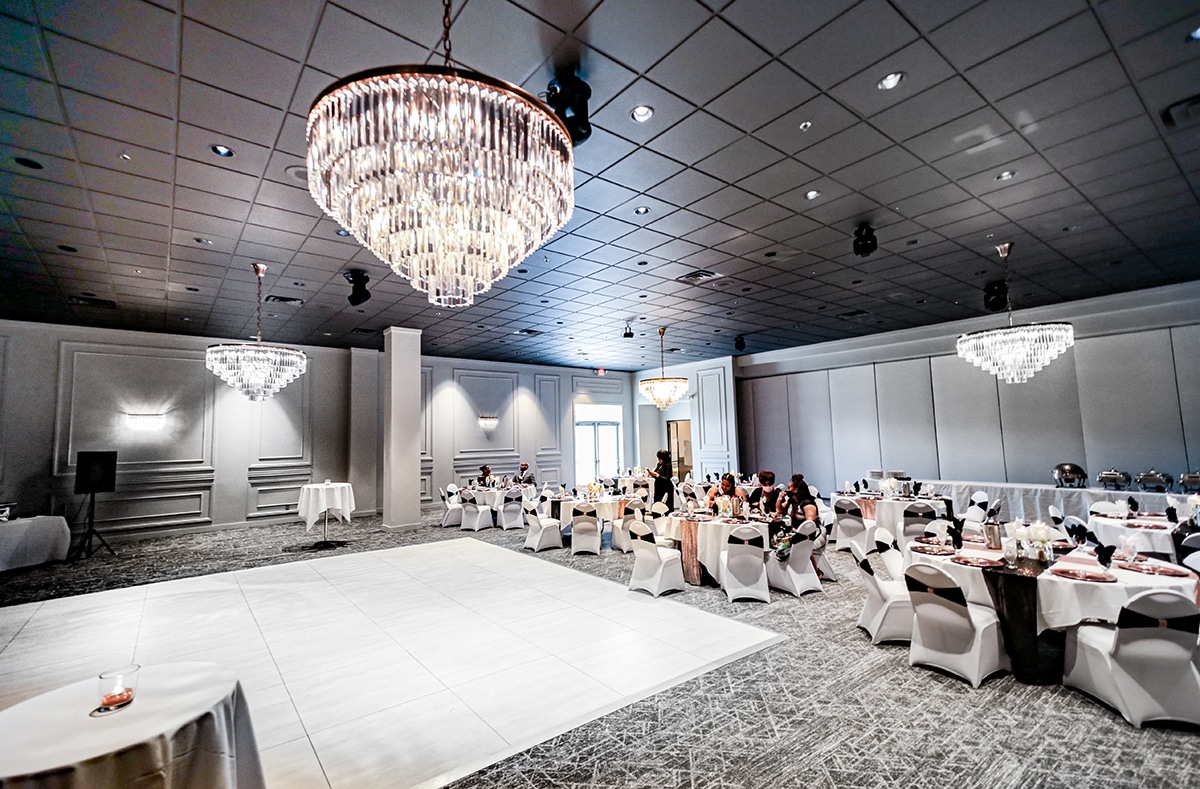 Wedding Shower Venues Farmington MI
Carpe Diem Banquet Hall is a premier event facility and one of the most phenomenal wedding shower venues near Farmington, MI. Even the thought of being part of your special day and having the pleasure of hosting all your friends and family from Farmington is enough to get us pumped. Farmington is such a wonderful city full of so much love and culture. From the local parks where you walk with your partner and dream about the future to the barrage of other exciting attractions where you compete for the right to tease the other, everything about your life in Farmington has seemingly led up to this moment. And that means you can't cut any corners with your wedding shower. You deserve to relax and unwind with the people from Farmington you love before your big day, and you certainly enjoy some nice gifts. And your guests from Farmington deserve to enjoy some time with you, tell you how they feel, and offer you advice before you're too busy being a newlywed to reach out. Our event coordinators at Carpe Diem Banquet Hall will happily make that happen and satisfy you in any other way we can to prove to you we truly are one of the most reliably incredible wedding shower venues near Farmington.
Carpe Diem Banquet Hall is located at 28847 Franklin Rd. Southfield, MI 48034. We can provide you with an elegant and affordable experience for parties up to 350 guests and can help you plan the perfect setting for the event you envision.
If you are looking for elegant and affordable wedding shower venues Farmington MI, call Carpe Diem Banquet Hall at (248) 358-3355, or fill out the form below or in the sidebar for your free party consultation:
Free Consultation
"*" indicates required fields