Are you looking for elegant and affordable wedding reception venues Farmington MI?
Your wedding ceremony might be the event you put the most thought into given it's the part of your special day when you officially get to immortalize your unbreakable bond. But don't forget about your reception. Your wedding reception is likely the part of your special day you'll remember the most in the future, as will everyone else. So, do yourself and your guests a favor and make sure you choose only from venues that are perfect for you. All wedding reception venues may be different, but Carpe Diem Banquet Hall helps guarantee you feel confident you've made the right choice by being one of the most versatile venues you've ever seen. You won't find any venues more conveniently located or all-inclusive to host your wedding reception than our completely remodeled banquet halls. We're right in the heart of Metro Detroit, mere minutes from numerous friendly hotels that provide discounts just for our guests. Our banquet halls are each beautifully decorated with stunning chandeliers and neutral tones to match any wedding reception theme or décor. Plus, our floorplans are entirely customizable, so you can adjust the size of your dance floor, make room for bars and snack stations, leave plenty of space for live entertainment, and do whatever else you want to ensure the comfort of your up to 350 guests. Like all other professional venues, we can work with you to find the most affordable wedding reception package that includes the catering and amenities you want. You've likely never even come across any wedding reception venues in Farmington that come close to Carpe Diem Banquet Hall.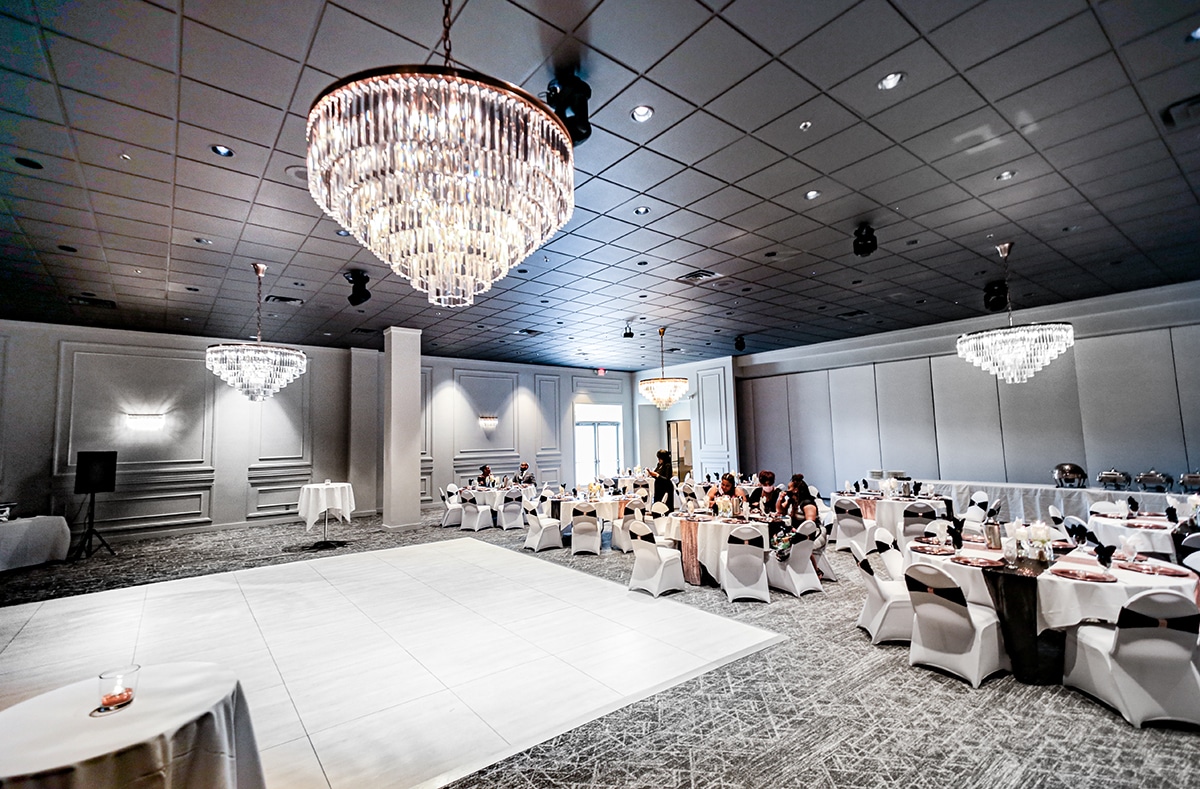 Wedding Reception Venues Farmington MI
Carpe Diem Banquet Hall is a premier event facility and one of the most phenomenal wedding reception venues in Farmington, MI. No matter which of our two banquet halls you like most, we know we can capture the spirit of your special day better than anyone else on Farmington. Whether you want a party that's fun and free to represent all the incredible times in Farmington you've shared with your special love or a more sophisticated and elegant affair to set the tone for your prosperous future in Farmington together, our event coordinators will work tirelessly to perfect your vision. Besides, while Farmington may be full of charming entertainment, there are zero local venues worthy of hosting your one and only wedding reception. And, with the ability to lodge all your out-of-town guests less than five miles down the road from Carpe Diem Banquet Hall instead of at your house in Farmington, you can make transportation and get-togethers easier for everyone. There's simply no end to the benefits of hosting your once-in-a-lifetime wedding reception celebration with us. You've never experienced anything in Farmington like it.
Carpe Diem Banquet Hall is located at 28847 Franklin Rd. Southfield, MI 48034. We can provide you with an elegant and affordable experience for parties up to 350 guests and can help you plan the perfect setting for the event you envision.
If you are looking for elegant and affordable wedding reception venues Farmington MI, call Carpe Diem Banquet Hall at (248) 358-3355, or fill out the form below or in the sidebar for your free party consultation:
Free Consultation
"*" indicates required fields