Are you looking for elegant and affordable reception halls Farmington MI?
We have no doubt your wedding ceremony is going to be everything you've ever dreamed it could be and more, but what about your reception? Do you really have everything you need to host a huge party worthy of your love for all the people in your life you care most about? If the answer is not a resounding yes, we urge you to get in touch with our extraordinary event coordinators at Carpe Diem Banquet Hall right away to discuss booking one or both of our stunning reception halls. Each of our reception halls is nearly brand-new, having undergone extensive renovations recently to enhance their versatility and charm. You can customize the floor plans, draw attention to our elegant chandeliers, and set your reception halls up to welcome any live entertainment you have your eye on. Whatever you're thinking is going to most impress your up to 350 guests, we can arrange our reception halls to make sure you get it. Our event coordinators will do anything to make your big day that much more special. Plus, our elite special event packages can help you stay within budget no matter what kind of catering and bar services you want to set up in your reception halls. Once that's taken care of, all that will be left is finding a place nearby for out-of-town guests to stay after the party, and that's easy too. Being in the heart of Metro Detroit means our reception halls are practically walking distance from numerous friendly hotels that will happily give all your guests in and far from Farmington a great deal!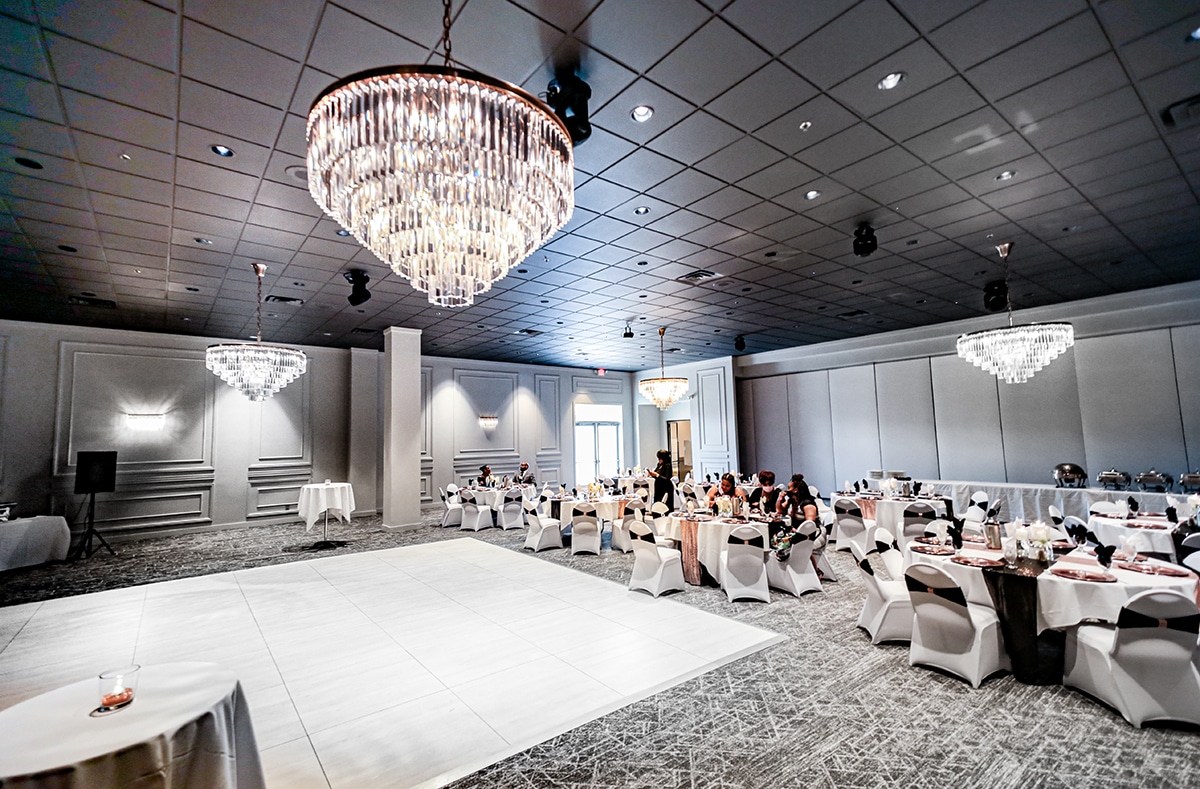 Reception Halls Farmington MI
Carpe Diem Banquet Hall is a premier event facility that offers phenomenal reception halls near Farmington, MI. Trust us, you won't find anything better. No matter how many movies you and your beloved enjoyed together at the Farmington Civic Theater, games you played at the Total Sports Complex, or dates the city of Farmington has hosted, it is just not a place known highly for its romance. Farmington is a place for fun, laughs, and meeting the love of your life. When you're ready to celebrate that love, you look just east of Farmington toward our wedding and reception halls at Carpe Diem Banquet Hall. We have everything couples and families from Farmington need to celebrate their commitment to one another. Plus, you will not find a more suitable place anywhere else near Farmington to guarantee everyone enjoys your exceptional reception as much as you do!
Carpe Diem Banquet Hall is located at 28847 Franklin Rd. Southfield, MI 48034. We can provide you with an elegant and affordable experience for parties up to 350 guests and can help you plan the perfect setting for the event you envision.
If you are looking for elegant and affordable reception halls Farmington MI, call Carpe Diem Banquet Hall at (248) 358-3355, or fill out the form below or in the sidebar for your free party consultation:
Free Consultation
"*" indicates required fields