Are you looking for elegant and affordable wedding halls Farmington MI?
One of the most important details of your wedding is your ceremony and reception location. The venue you choose for your special day will set the tone for the entire event, from the start of your ceremony to the conclusion of your reception, which is why most couples choose a theme or venue and plan the rest of the event around that. However, when you choose one of our wedding halls at Carpe Diem Banquet Hall, we can offer you a sophisticated yet neutral setting you can make your own. Whether you want a rustic, barn wedding feel or upscale hotel vibes, our event coordinators will transform our wedding halls into your ideal escape. It's even easier now that our wedding halls are practically brand new. Remodeling our entire facility has allowed us to open up all-new possibilities for our guests. Our wedding halls now have elegant chandeliers, customizable floor plans, and more so you can accommodate up to 350 guests comfortably. And if you want to cut costs, you can even ask about hosting both your ceremony and reception here with us. We offer a wide variety of special event packages that include everything your guests will want and need. Best of all, our wedding halls are right in the heart of Metro Detroit, within five miles of numerous quality hotels that offer special rates for our guests. That way, even if you live next door in Farmington, all of your out-of-town guests can keep close to our wedding halls at Carpe Diem Banquet Hall.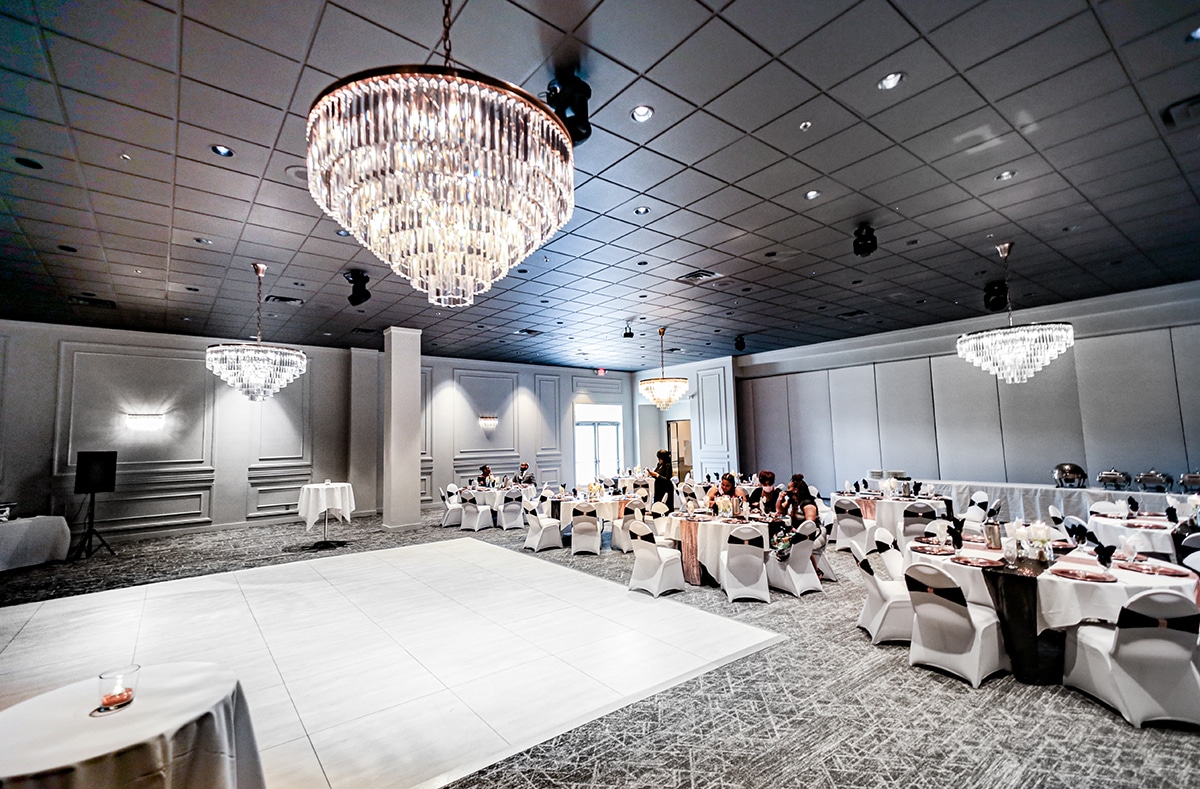 Wedding Halls Farmington MI
Carpe Diem Banquet Hall is a premier event facility that offers phenomenal wedding halls near Farmington, MI. You won't find anywhere else in Farmington quite like them. Escape rooms, theaters, burger bars, sports complexes, and unique museums – sure. Farmington is full of odd attractions of every sort, but if you're looking for romance, class, enchantment, and excitement, you need more. You need to find wedding halls near Farmington that inspire you and make you feel as special as the bond you share with the love of your life. Nothing else in Farmington is going to be good enough. Your wedding is your special day, the one day in Farmington when all eyes and attention are on you, and you deserve for it to be as magical as your love. You deserve to host your unforgettable event at one of the most popular, reliable, and all-around incredible wedding halls near Farmington you can find: Carpe Diem Banquet Hall!
Carpe Diem Banquet Hall is located at 28847 Franklin Rd. Southfield, MI 48034. We can provide you with an elegant and affordable experience for parties up to 350 guests and can help you plan the perfect setting for the event you envision.
If you are looking for elegant and affordable wedding halls Farmington MI, call Carpe Diem Banquet Hall at (248) 358-3355, or fill out the form below or in the sidebar for your free party consultation:
Free Consultation
"*" indicates required fields