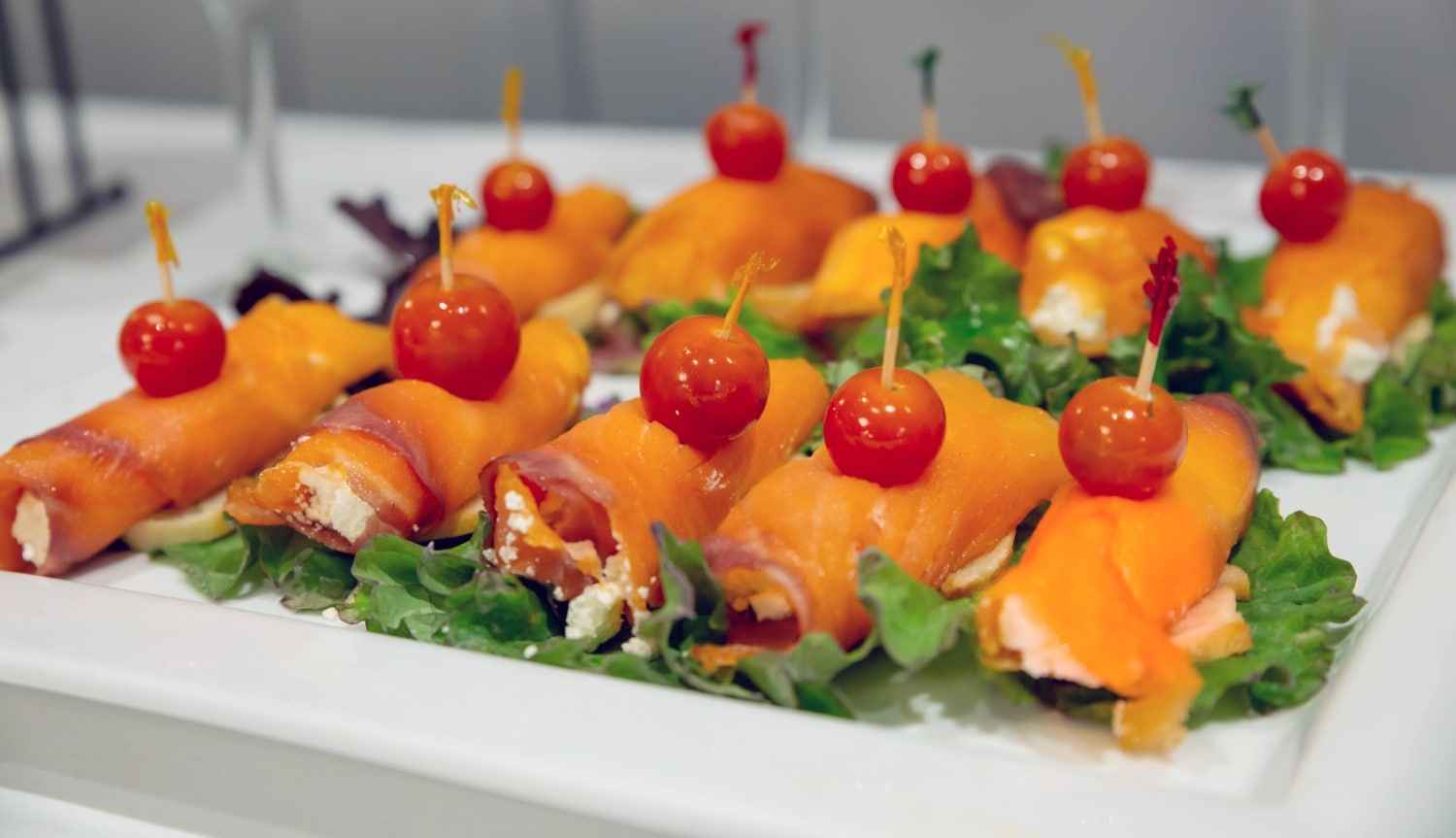 No event at Carpe Diem Banquet Hall would be complete without our incredible catering and bar services. So please, take a look at our most recent available packages and menu. Our latest updates are really something special!
Reception Packages
Our comprehensive reception packages are all-inclusive, including the cost of your banquet hall, food, drinks, and more. Simply choose the type of reception package that best suits your event, from small silver, silver, small gold, gold, or platinum, and enjoy hours of fantastic food and services for one sensible price.
Dinner Menu
Our dinner menu is bigger and better than ever, including three incredible courses. You can choose any two of our Chicken, Seafood, or other options. Or upgrade to one of our premium entrees, paring either with your choice of sides and salad. If you would like additional offerings, our dinner menu also includes Cold Hors d'oeuvres, Hot Hors d'oeuvres, or individual appetizer platters.
Beverage Selections
Want some spectacular drinks to go with your dinner? Choose our House Bar, Premium Bar, or Top Shelf Bar. Our higher-level packages include all the selections of our lower-tier packages and more. Plus, you can get Wine or Champagne by the bottle.
Breakfast & Brunches
Hosting an event between 8:00 am and 3:00 pm? Take advantage of our Delicious Breakfast Package or Delicious Brunch Buffet. Each consists of all the sweet and savory breakfast classics you love, with fresh juices, coffee, and tea to wash it all down.
Specialty Packages
Planning a particularly special event? We offer special Carpe Diem Special Event Lunch packages for non-profit organizations and funerals, and Motor City Magic Buffets for all other unique occasions. Both are served buffet-style and all-inclusive, so all you have to do is figure out which one is a better fit for your event.
Shower & Brunch Packages
Need a relaxed atmosphere to celebrate a baby or wedding shower? We have two different packages just for you! Whether you choose our Lunch Buffet or our Brunch Buffet, you will not be disappointed.
Stations & Appetizer Specials
Can't decide which of our incredible menus is better than the rest? Enjoy a little bit of everything by mixing and matching our Stations and Appetizer Specials. We have nine unique stations to choose from, all inspired by different cuisines, as well as over a dozen different Hot and Cold Hors d'oeuvres for you to choose from.
Desserts
Can't let down your guests by forgetting dessert? No worries! We have plenty of assorted desserts that you can add to any package for a small additional cost. You can choose your sweets per person or pick two of your favorites for everyone to share.
Ready to start solidifying the details for your upcoming event? Get in touch with our event coordinators at Carpe Diem Banquet Hall as soon as possible to discuss which of our updated packages and menus seem like a good fit for your guests. Call Carpe Diem Banquet Hall today at (248) 358-3355, or simply fill out the form in the sidebar to see how we can help you plan and/or host your next party.